June 3rd, 2014.
I'm just now realizing how something in my life has come full circle... 
June 3rd, 2009 was the day that my sax hero passed on to the other side.
Sam Butera
was one crazy wailer on that sax. My favorite thing was how he could just rip that sax apart and make it sound so wild, yet you knew that he had such control over it. I aspire to be as good as him one day and hope to continue to create the kind of music that brings smiles to the people just like he and Louis Sr did. 
Well, it's been 5 years since that day... and his funeral was just a few days later. I remember driving out to Las Vegas in hopes that I would get to pay my respects to Sam. A friend and I drove out that weekend with absolutely no idea what was going to happen... No hotel, no invitation, no plan, just hope. When we got there, we were surprised to be welcomed by his family. I mentioned that I am a sax player who drove from California just to pay my respects. They let us in, we sat and even saw some familiar faces. The service was beautiful. As it ended, they played Sam's recording of "Exodus." It was very powerful. I even got to go up to the altar and place my hands on his Selmer sax and in that moment I looked at Sam and said... "Hi Sam, I never got to meet you... but I sure hope to be half the musician you were. Thanks for the inspiration. Give me some of that honk and energy, won't ya?" In that moment, I closed my eyes and put my fingers on his sax and played the lowest note a Tenor can hit, naturally... Bb. It may seem silly to some, but to me... I felt like Sam smiled down at me and said... "Blow, Kid. Blow!"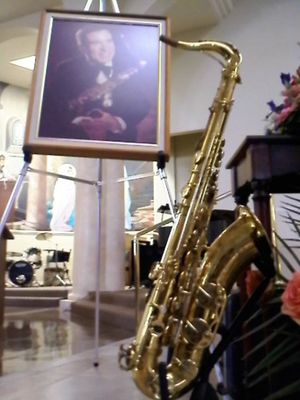 (Sam Butera's Selmer Sax and Portrait at his Memorial Service) 
At the service I recognized fellow musicians
Kirk
 &
Nicole Tracy
, of
The Kid & Nic Show!
 They happened to be in town this weekend and were performing at the Hacienda Casino near Hoover Dam. They invited me to come and stay with them at the casino after the service, and it was with their generosity that my friend and I suddenly had a place to stay. Neither Kid and Nic or my friend and I had any idea what would happen right after the ceremony, but that was when Sam's kids stood together and invited us all to the reception to get together and share more with all the people who knew Sam. When we pulled up to the Italian American Club of Las Vegas, my excitement grew as I felt that this would be the closest I ever got to being around Sam and the love he had for his people. It was then that I met Sam Butera Jr and his beautiful daughters. They shared stories with me, took time to thank me for being there and we all partook of the snacks and drinks that they had provided. I had a chance to meet players from the old Witnesses as well as The Wildest.  Here's a link to an article from that day:
Click here.
There was one person I was about to meet and little did I know how much it would change my course in life. Kirk and I were having conversation and Nicole rushes up to both of us and says… "I'll tell you later… just go along with me…" She turned around and introduced us both to a man. He had many earrings, tattoo's and neither Kirk or I had any clue who he could possibly be. She said… "This is Kirk and Marco, both are great sax players who looked up to Sam and Louis." We shook hands, he said nice to meet you and we continued on with our conversation as Nicole thanked him for saying hello. When he left, she told us that we had just met
Louis Prima Jr
.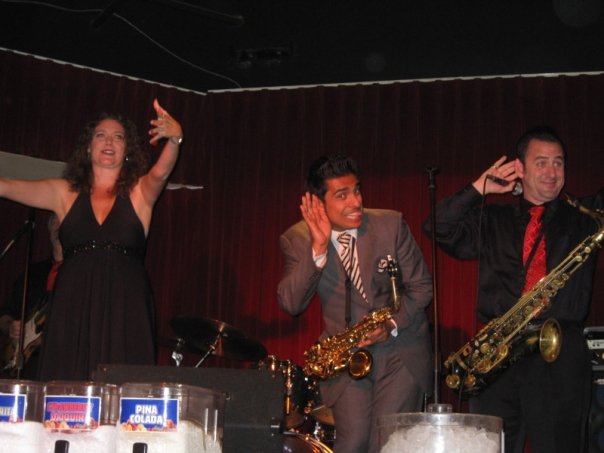 (Performing that same night with Kid & Nic at The Hacienda - Kirk & Nicole Tracy)
Kirk and I both did a double take as we looked for him again and it was too late! He was already gone.  Well, that was the first time I had met Louis Prima Jr. It was later in January that I received a random phone call while in Vegas, yet again… It was Michael Licata, one of Louis' managers. We had a great talk and he basically told me that I should come out to witness this show to see if I felt I could do it. I told him I'd be happy to. So the following week, I did just that. Drove on down to Hollywood and watched Louis Prima Jr and the Witnesses perform for the very first time. 
It was quite an experience! The band sounded good and I would close my eyes and sometimes hear Louis Sr whenever Louis Jr would sing. That night I hung out with them after the show. We talked, we ate, we drank, we were merry, and it turned into quite a late night! It was about one or two weeks later that Louis came out to watch me perform with Will in The Barrel House Boys. I invited him to come up and perform one song with us. Now, if you have one chance to perform with the son of one of your musical heroes, what song would you choose? For me, it was obvious...  "Just a Gigolo!"  The performance was amazing! The chemistry between us was so electric that we both knew something cool had just happened. At the end of the song as he walked off the stage, he leaned into my ear, we shook hands and he said, "Let's talk after the show."
Click here
to watch that performance!
That was the night when Louis extended me the invitation to become a Witness and provide him with a new horn section. Immediately I thought of my guys in
Phat Cat Swinger!
I asked how many guys he needed and what sound he wanted, hoping to bring as many of my guys along as possible. He only wanted the same three horns that his father played with in his later years. So, I brought along Phil on Trombone and Ted on Trumpet for the journey. I was a little sad inside that I couldn't bring Will with me. He'd been by my side all this time with Phat Cat Swinger AND The Barrel House Boys, and now I was starting a new journey without him. Well, the years go by… The band makes our first album. It was definitely a learning process. Then the personnel starts changing within the band and it becomes this different machine… One I've never witnessed before (no pun intended). We began to find that NEW Prima sound for new generations to enjoy. It had soul, it had funk, it had rock and it swung harder than any of Babe Ruth's 714 career home runs! We were on to something… Then came August of 2013… We went to Shabby Road studios in Phoenix, Arizona (Home of the
Shabby Road Record Show
.) We got together and wrote some music. It was then that I was given the job to come up with an instrumental track that would be similar to "Night Train" from the first album. An instrumental sax feature.
Well, I wrote… and I kept throwing away ideas as they came to me... and it wasn't until the night before the song NEEDED to be completed that I fell asleep nervous as can be. I hadn't finished the song, which meant we were going to have to record a cover song... Something that had already been performed before. I knew this was going to be my last chance to get one more original song on this album that we were going to record at Capitol Records. 
The final morning of our pre-production rehearsal it came to me... I walked into the music room, sat at the beautiful grand piano of the family I was staying with, and within 3 hours came up with my song! I kept thinking to call it… "Blow, Sam, Blow!" But that was just too long… Too cliché… and then I just cut it down to "Blow." I presented it to the band, and it stopped everyone in their tracks. We had so much fun with this song that even when we recorded it the following week at Capitol Records, the song evolved even more! We first tried to record it with a click track, but the energy was quickly lost because the song did not want to be restrained. So what did we do? We went at it and recorded the song LIVE. No click track, no edits… Just one straight run through from beginning to end until we got the right take. Believe it or not... we did it, and we did it within the first few takes. The song did so well that it became the title of our second album! You couldn't imagine the honor I felt when it was decided that the song I wrote would become the title track of this album.  
Now here we are, 5 years later from that moment that I laid my hands on Sam Butera's saxophone, that moment when I felt him say… "Blow, kid! Blow!"
I'm a Witness now! What's best is that as of last week, Will now plays Bari Sax with us as a Witness too! It was like reuniting with my long lost brother. He had his inaugural performance with us in Kansas City! I even bought him a Sheriff Badge to mark his first gig. So now we have a real band, a family, and our CD comes out right around the same time of year that I drove out to Las Vegas with no plan or knowledge of what was going to happen!
All I can say is that I am so thankful to have that spirit of adventure that allowed me to go out and say… "We'll see what happens!" I'm thankful for all these moments that have happened in order for things to come full circle.
Thanks to all who have supported and continue to support me throughout this journey. Thank you to my mom, dad and entire family who are always praying for me. Let's see what happens in the next five years. Are you ready?! Like I said 5 years ago… I don't know what's going to happen, but here we go! 
For all information, reviews and links to our new album, "Blow,"
visit:
www.LouisPrimaJr.com
 - or click the photo below to order your copy!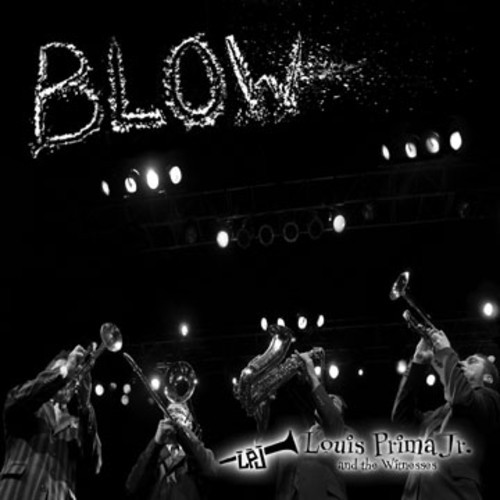 Until next time, 

~Marco on Sax